Nuacht na Seachatine seo (9/10/2020)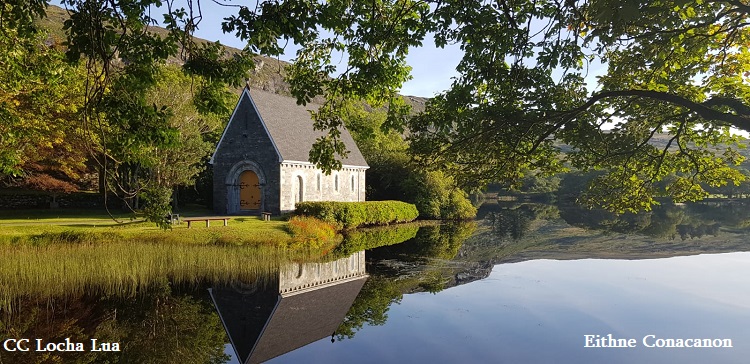 An Coiste Forbartha.
Muileann Gaoithe
Tá Wingleaf tar éis achomharc a chuir isteach chuig an Bórd Pleanala
Tá an deis againn go léir á mbreathnaithe a chuir isteach chuig An Bórd ina gcuinne.
Tá 3 seachtain againn chun é a dheanamh.
Feach ar an achomharc a chuir Wingleaf isteach chuig an Bórd ar an link thíos
Wind turbines
Wingleaf Planning Appeal ABP-308244-20 against Cork Co Co planning refusal 20/00350
For: 7 x 178 metre turbine Windfarm and Battery Storage at Curraglass (Keimaneigh/Gougane Barra)
As you know Coiste Forbartha Béal Átha'n Ghaorthaidh also appealed this planning refusal to An Bord Pleanála as being too "soft".
If you were one of the 57 people who objected to the Wingleaf application, you will have or soon will have received a registered letter from Cork Co Co telling you that you can inspect the documents at the Council Office and can pass comment for a fee of €50.
Because we also appealed. Coiste Forbartha has a paper copy of the Wingleaf Appeal. If the Council does not put this on-line in the next day or two, we will scan it and make it available on line.
Also because we appealed, we (Coiste Forbartha) are allowed to make observations at no cost (only on the Wingleaf Appeal). So if you have observations which you would like to make through Coiste Forbartha at no cost, let us know.
We have to reserve the right NOT to submit anything we think might get us into trouble, so you can still pay your €50 and "go your own way".  You could pool comments into one €50 set of observations if you wanted to.
We have 4 weeks from 25/09/2020 to do this and the comments need to be received on paper in Dublin by then.
Le meas
Coiste Forbartha
This is a link to a drive account which contains both the Wingleaf and the Coiste Forbartha's appeals
https://drive.google.com/drive/folders/1xxo0UgHOLlpDgLFRRi5CMHJbhkWdYAnX?usp=sharing   
Please send an email to this address if you wish to contribute in any way to the appeal subnissions

Cupáin i gcóir Ailse
Cups for Cancer
The Irish Cancer Soceity, "Cups for Cancer", was due to take place over the month of October. However, due to Covid 19 restrictions, unfortunatly I'm not able to host this event in my home. 
We are still hoping to raise funds for this worthy cause, so I have decided to do a "Take-away" option. 
A Take-away coffee morning bag will be available on the morning of Friday 16th October.  
Bags will be available in Síopa Dúinnín and also outside Scoil Fhionnbarra.

Ellie Uí Dhuinnín
Coiste an Halla 
De bharr na srianta atá ann faoi lathair, tá an Halla dúnta, agus beidh go dtí go mbeimíd thar nais chuig leibhéal a dó.
Due to the public health restrictions of Level 3, an Halla is closed. It will reopen when the area is returned to Level 2. 
Cumann Ceamara Locha Lua
Beidh an féilire á chur ar bhun arís roimh an Nollag.
Ná dean dearmad cupla pictiúir a thogaint.
The yearly calendar will be put together again this year. 
Please take some photos.
Picture must be taken in the Ballingeary area.
Ostán Gugán Barra  

Satharn sa abhaile  agus takeaway an Domhnaigh
Feach an biachlár don takeaway don t-seachtain seo ceangailte.

Tá níos mó ar fáil ar an suíomh chomh maith. Féach agus ordaigh anseo: https://gougane-barra-hotel.myshopify.com/collections/gougane-home


Teiripeoir Áilleacht  
Beauty Therapist
Cecily Ní Chonaill

Call or text this number
085 167 9563
Chuir glaoch/Seol téacs chuig an uimhir seo
085 167 9563
Nuachtlitir an Pharóiste / Parish Newsletter

Feach ceangailte
Cumann Ceamara Locha Lua

Pictiúirí na seachtaine/Photos of the week.

Féach faoi iamh pictiúirí na seachtaine ó Chumann Ceamara Locha Lua.

Bhí tearma oscailte an t-seachtain seo. (Griangrafadóirí: Eithne Concannon, Brandy Ó Tuama agus Vaughan Taylor )  
 
See attached the photos of the week from the local photography club-Cumann Ceamara Locha Lua.

There was an open theme this week. (Photographers: Eithne Concannon, Brandy Ó Tuama and Vaughan Taylor)