Nuacht na Seachtaine (26/11/2021)
See Ballingeary.com or bealatha.ie
Eircom.net
Anyone with an email address that ends with @eircom.net  are not receiving the emails each Friday for some reason.

Brón orm faoi seo
An Feílire
Fair play dos na 37 daoine a sheol na pictuirí isteach don feilire agus don comortás.
Is é 273 griangraff in iomlan atá ann.
Ní beag an seift í ceann a roghnú don priomh díus agus do gach mhí.
Sé Bárd na nGleann atá ag deanamh urraíocht ar an féilire i mbliana, 
Míle buíochas as san
Is e Breandán Ó Tuama atá chun an féilire a gagrú. Tá duchlan mór roimhe
Tá an nasc seo seolaithe chuigh an dhá breitheamh atá roghnaothe i mbliana.
Níl aon ainmneacha leis na filteán.
Feach na pictuirí go léir anseo
https://drive.google.com/drive/folders/1INCNl07V9GxVdjLWp4P1QIJ5kgnfeimv?usp=sharing 
The Calendar
Fair play to the 38 people that have entered photographs for the competition and the calendar this year
A total of 278 photos entered in all.
Such a difficult job it will be to choose a winner and monthly photos also. 
It is Baed na nGleann that are sponsoring the calendar this year. Thanks so much the them.
It is Brandy Twomey that is organising the calendar this year, such a big  challenge he has before him.
Brandy has chosen two judges this year, they have received a link to all the folders. 
The link below is the same link the judges have received with no names on the folders just numbers.
https://drive.google.com/drive/folders/1INCNl07V9GxVdjLWp4P1QIJ5kgnfeimv?usp=sharing
 Enjoy the photos
We live in such a beautiful place
Meitheal na Gaolainne Bhéal Átha  

Frásaí na Seachtaine
Uasal / Noble, high-born, gentle, gentlemanly 
Fear, bean, uasal / Gentleman, gentlewoman 
Is é an duine uasal é / He is a real gentleman  
A dhaoine uaisle / Ladies and gentlemen 
An tUasal Ó Murchú / Mr. Murphy 
Ní bhíonn íseal ná uasal ach thíos seal agus thuas seal / Everyone has his ups and downs in life
Seangriangafanna
Go raibh maith agat a Thadhg Ó Gealbhain as na griangrafanna seo a tahbahirt duinn
​
Scoil Fionnbarra
Feach na hainmneacha insan caipeas ceangailte thíos
Cumann Peile Béal Átha'n Ghaorthaidh
​
Gruagaire i gCuan Barra
Is feidir coinne a dheanamh leis an gruagaire ach glaoch ar Joanne ar 0877798592.
Hairdresser in Cuan Barra
Hairdresser Available in Cuan Barra by appointment call Joanne on 0877798592
Teiripeoir Áilleacht
Cecily Ní Chonaill
Cuan Barra gach Ceadaoin
Chuir glaoch/seol téacs chuig Cecily ar 085 167 9563  
Cecily O' Connell
On Wednesdays in Cuan Barra
Call or text Cecily on  085 167 9563
Nuachtlitir an Pharóiste / Parish Newsletter

Fach an nuachtlitir ceangailte
Cumann Ceamara Locha Lua

Pictiúrí na seachtaine/Photos of the week.

Féach faoi iamh pictiúrí na seachtaine ó Chumann Ceamara Locha Lua.

Bhí tearma oscailte an t-seachtain seo. (Griangrafadóirí:  Catriona Ní Chéilleachair agus Tadhg Ó Duinnín).
 
See attached the photos of the week from the local photography club-Cumann Ceamara Locha Lua.

There was an open theme this week. (Photographer Nina Kelleher and Tadhg Dineen)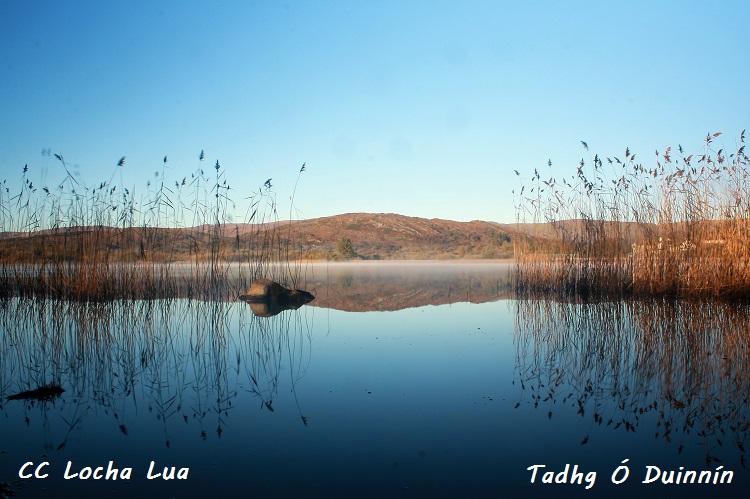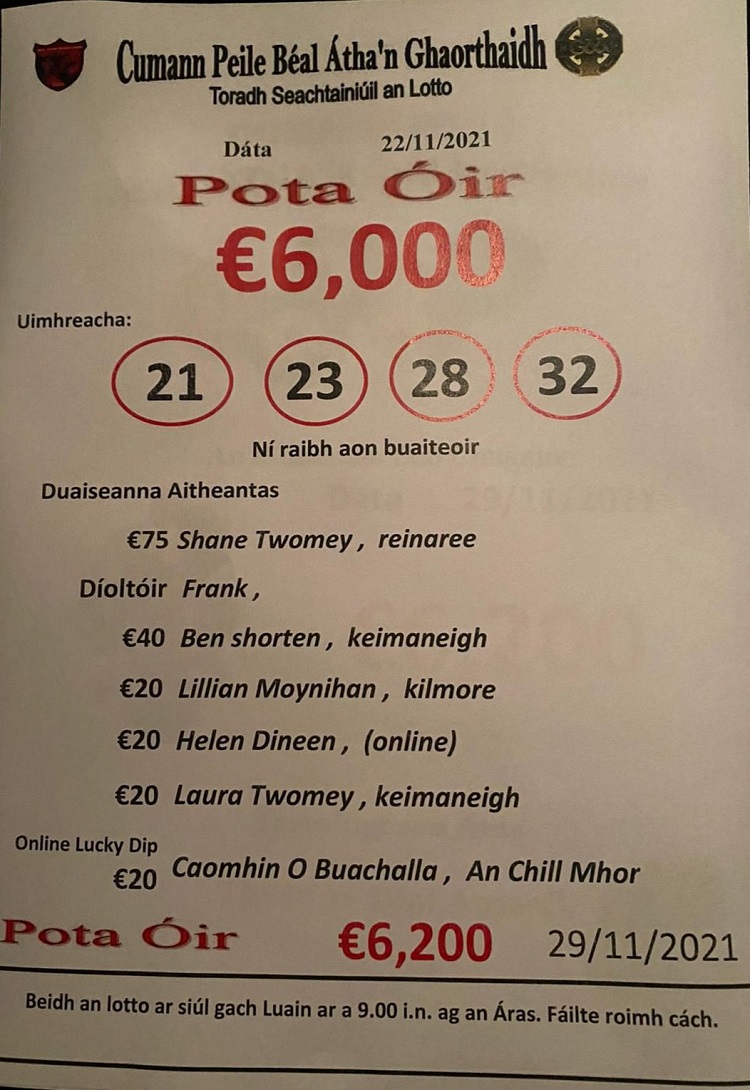 Lean an nasc / Follow the link