Nuacht na Seachtaine seo (24/09/2021)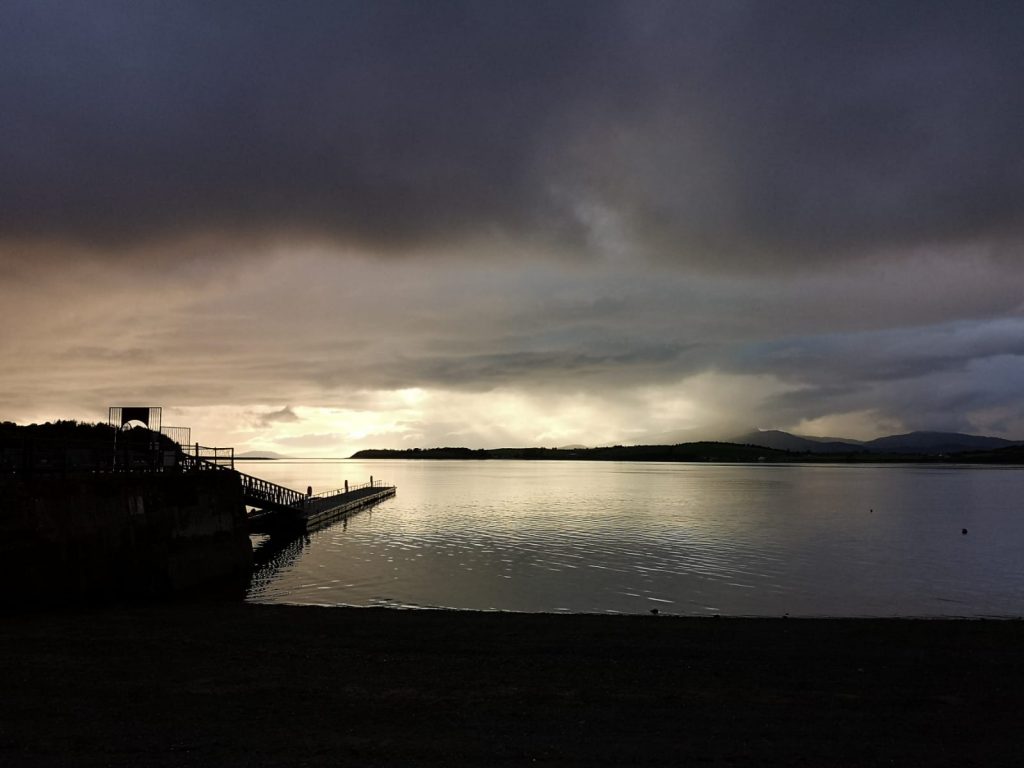 Cuan Barra
Tá cairde Cuan Barra ar ais le chéile arís.
Tá áthas an domhain  orainn go léir
Míle buíochas do gach éinne a cabhraigh linn na béilí a thabhairt amach nuair a bhí an Covid ann.
Feach pictuirí anseo
https://photos.app.goo.gl/wDUUERkvC2HzsESj9
 
​

Cuan Barra
WE ARE BACK SINCE MONDAY
Thanks to all that have helped with the meals during the Covid pandemic
See the pictures here
https://photos.app.goo.gl/wDUUERkvC2HzsESj9
Coiste an Halla
Bhí an crancarr ar an Deardaoin
seo iad na torthaí
Go raibh míle do gach einne a chaennaigh ticéadaí
Halla Committee
Thanks to everyone who supported the Halla Raffle and a special thanks to Eileen and co at An Siopa who are always so helpful. We raised €515.00 and the winners of the raffle are:
Angela Brennan: €30.00 Voucher for Catríonas music lessons
Mags O'Leary: Exhibition size print from Peter Cox
Angela Brennan: Skellig Book from Peter Cox
Eilish Lehane: €30.00 Smugglers Cove Voucher 
Eileen Buckley: 500 piece jigsaw from Ann Scanlon
Owen Quill: 500 piece jigsaw from Ann Scanlon
Glenda McFadden: Discovering Ireland board game from Ann Scanlon
Fionnbarra Dineen: Training sessions and Kit from Tonys Kickboxing
Roisin Buckley: Voucher from Siopa Frank
Peadar Concannon: Beauty products from Bunclub
Noírín Ni Cheilleachair: Newbridge gift box from Bunclub
Coiste Forbartha
Fundraising
The Coiste Forbartha is in need of money for continued work  and new projects
Activities of the Coiste Forbartha over the last two years
Weekly email

Internet site Bealatha.ie / Ballingeary.com

Tidy Towns application

Empty village bins

Organise litter picks

4 visits with gifts to over 70's

4 Quizzes during lockdown

St Patricks day Concert

Objections to two wind farm sites, including appeal to An Bord Pleanala and organising a petition.

Correction of TV reception due to turbines

Various Applications for funding from Windfarms, and County Council

Lobby for road surfaces,

Lobby for the sewage system upgrade including submission of a petition to Irish Water, and meeting with County Council.

Village flowers

Village art (Bikes, Bird houses, Mushroom tables, Fairy garden)

Maintain and improve Casadh na Spride

Power washing of walls and buildings

Coordination of painting in the village

Historical village walk, illustrated signage

Cycling and walking routes signed and mapped

Purchase of land behind Earrai Adhmad for river access and walks. Funding for feasibility study for Board walk and registration of Walking trails with sport Ireland applied for by West Cork Development Partnership on our behalf. (Result pending)

Environmental impact report on new land completed

Succeed to persuade Co Council to apply to central government for funding to upgrade the public toilets (decision pending)

Complete the Purchase through a generous gift from a local family of the Seana Cholaiste for Irelands first museum of the Irish Language and Gaelic Revival .

Apply for and achieve EU "LEADER " grant 90% funding to carry out a professional feasibility study for the museum Study will complete in September 2021

Submit comments to the Government Draft Policy on Windfarm Community Fund administration

Submit comments to the Cork County Draft Development Plan

Promotion of the language

Hill walking

Bowling

Irish Podcasts

Second place in national Glór na Gael competition

Historical podcasts

Irish Classes

Irish phrases in email

Summer camp

Making of Defibrillator box (telephone box)

Christmas Calendar

Christmas Trees

Mol an Óige Concert

Yearly photo video
Future plans
Continuation of the above

Upgrading of the public toilets

Bridge lighting Inse an Fhosaigh

Feasibility study leading to Construction work on newly purchased land behind Earrai Adhmad

Securing funding for the museum implementation phase following the feasibility study completion.

Install new welcome / goodbye signage

Water quality readings

Recording of historical sites in Ballingeary

Publish a 5-year  "Vision" Plan for Ballingeary
2 ways to contribute
1 Paypal to paypal.me/Trathnagceist
Click on the picture
     Hand an envelope with your name and donation into Dineens Shop
Anyone that donated will receive a thank You Card from the Coiste Forbartha
See Ballingeary.com
https://ballingeary.com.cpanel4.webhost.ie/
Many ThanksCoiste Forbartha
Airgead a sholáthar.
Ta an coiste ag lorg airgead 
Tá an Coiste Forbartha ag lorg airgid le haghaidh costaisí reatha agus tionscnaimh nua.
Imeachtaí an Choiste Forbartha le dhá bhliain anuas
Riomhphost  seachtanúil
Siomh idirlíon Bealatha.ie / Ballingay.com curtha le chéile
Foirm iarratas do Comortas na mbailte slachtmhara
Boscaí bruscar na sraide a folmhú
Piocadh an bruscar na bothaire agus na sráide a eagrú
Ceithre cuairt ar daoine thar tar ar 70 le bronntanais a eagrú
Ceithre tráth na gceist i rith an dianghlasáil
Ceolchoirm Lá le Pádraigh a chuir in eagair
Friotaíocht i gcoinne gá feirm gaoithe
Comhartha teilifíse a bhí lochtaithe   de bhfabhar na feirmeacha gaoithe a comhordanáidiú
Iarratais airgead a chuir faoi bhráid an Comhairle agus comhlachtaí na muilte gaoithe
Brú ar an comhairle chun dromhcla na bóthaire a feabhsú
Brú ar Irish Water chun an comhras séarachas a shocrú
Blathanna na sraide
Ealaín na sraide (Rothair, tithe na héin, boird na beacáin, gairdín na seoga)
Casadh na Spride a coimead in eagair is a feabhsú
An dionglanadh a eagrú
Peintáil na sraide a cordanú
Siulóid starúil na sraide a leiriú is a chuir i lathair
7 Bealach siuloide agus rothaiochta a mapáil is a leiriú
Talamh lastíor do Earraí Adhmad a ceannach i gcóir siuloidú is slí chun na habhainn
An Sean Choláiste a ceannach le cabhair ó clan aitiúil chun iarsmalann oscailt
Íoch as stadéir feidearacht don iarsmalann
An Gaolainn an chuir chun cinn
Siúlóidí sleibhe a eagrú
Boláil
Podchraoltaí Gaolainne
Dara áít i comortas náisiúnta Glór na Gael
Podchraoltaí
starúil
Ranganna Gaoilainne
Ranganna Adhmadoireachta as gaeilge
Frásaí na Seachtaine insan email
Campa samhraidh
Bosca telefóin / defoblóir a crothú is a chuir i lathair
Feilire na Nollaig
Na crainn Nollaig a chuir i lathair
Ceolchoirm
Mol an Óige
Fís pictuirí bliaintúil.
Plé le Udarás faoi fostaiocht
Tionscanaibh amach as seo
Leanúint le gnóna laethúil
Na leithireasí poiblí a usgradú
Soilse a chuir ar droichead Inse an Fhosaigh
Obair a thosnú ar an talamh nus ceanaithe
Airgead a sholathar don iarsmalann
Comthraí fáilte / slán nua a chuir i lathair
Caidean an uisce sa tsráid a measúnú
Siomhanna starúil a foisiú
Plean 5 bliana do Bhéal Átha a foilsiú
2 slí chun ioch.
1  Paypal chuig paypal.me/Trathnagceist
Bruaigh ar an pictiúir
2 Airgead isteach i Siopa Uí Dhuinnín ( Cludach litreach le do ainm ar)
Seolfaigh an gcoiste carta buíochas do gach einne a seolfaigh airgead chugainn.
Feach Bealatha.ie le tuile eolas
https://ballingeary.com.cpanel4.webhost.ie/
Míle Buíochas.
Coiste an Halla
Thanks to everyone who purchased tickets for the Halla raffle. Draw will take place outside Siopa Frank on Tuesday 21st at 16.15 . Prizes include Siopa Frank voucher, 2 × 1hr Personal training sessions,  boxing gloves, kickboxing hoodie,  €30 voucher for music lessons,  €30 Smugglers Cove voucher and much more. Thanks to everyone who donated prizes.
Winners will be called after draw. Good luck to all.
Halla Committee
Beidh an crancar las muigh do Siopa Uí Dhuinnín ar an Mhairt an 21ú ag a 4:15
Duiseanna
Dearbhán Siopa Uí Dhuinnín
Treanáil pearsanta
Meatain dornalaí
Geansaí
Dearbhán do rang ceol
Dearbhán do Smugglers Cove 
 An Plean Teanga
Irish Classes
Ranganna Gaoluinn/Irish Classes
Aimed at people who have a few words!
Starting next Tuesday 28th September @ 7.30pm in GTeic Ballingeary.
€50 for 10 classes.
You can register on line using the following link https://forms.gle/UsqaohXaykMggaj78 or Register on the night. Either way all welcome.
Ranganna Gaoluinn/Irish Classes
Ag díriú ar dhaoine le beagán Gaoluinn
Ag tosnú an Mháirt seo chughain 28ú Meán Fhómhair @ 7.30pm sa GTeic i mBéal Átha an Ghaorthaidh
Táille €50 do 10 rang.
Is féidir leat clárú ar líne ag úsáid an nasc seo https://forms.gle/UsqaohXaykMggaj78 no clárú ar an oíche.
Fáilte roimh cách.
Comharchumann Forbartha Mhúscraí & GTeic
Cómhras teasa inathnuaite
Agus an Geimhreadh ag teacht, agus costais aibhléise ag dul in airde go pras, táimid ag eagrú seisiún maidir leis na féidearthachtaí atá ann ó thaobh do theach a théamh.  Anuas air sin beidh pluiméir ón gceantar, Tim Scannell sásta a chuid eolas a roinnt – go háirithe maidir le caidéil teasa, agus beidh daoine eile ag roinnt a gcuid dtáithí – ag úsáid córas inathnuaite –  chomh maith.  Beidh Denis ó Firebird ag labhairt faoi roghanna éagsúla freisin.   Mairfidh sé uair a chlog ach beidh deis ann ceisteanna a chur.

Seol r'phost nó téacs chugam más maith libh freastal ar an seisiún agus seolfaidh mé an nasc chugat.  Beidh sé ar 29ú Meán Fómhair ag 7.30Pm ar Zúm. Seol text chuig Caroline 083 1915432 nó r'phost eolas@muscrai.org más maith libh an nasc.

 

Renewable heating systems
With winter just around the corner and the price of electricity skyrocketing, we are organising a session about heating your house, focusing ón renewable possibilities  but also getting a sense of local people's experiences in this area – from the point of view of a local plumber, Tim Scannell, installing heat pumps,  and from people who have taken the step to put in renewable heating systems in their house.  Denis from Firebird will be talking of different options for people in Múscraí.   It will last just one hour but we will have time for questions.

Please reply if you wish to attend and I will send a link to your for the Zoom session, starting 29 September @ 7.30PM
An Gteic
Gteic – tá an mol digiteach, Gteic@Béal Átha 'n Ghaorthaidh  faoi lán sheoil arís agus tá deasca agus spás oifige ar fáil.  Is deis iontach é do dhaoine atá ag iarraidh cian oibriú a dhéanamh, fiú cúpla lá sa tseachtain.    Scaip an scéal le do thoil.  Déan teagmháil le Caroline 083 1915432 eolas@muscrai.org

 
The Gteic

The Digital hub, Gteic@Béal Átha an Ghaorthaidh is getting back to full action and we have co-working desks and office space.  It's a great option for people who would like to work remotely, even for a couple of days a week.    Spread the word please and you can contact me ón 0831915432 or email:  eolas@muscrai.org

 

Cumann Peile Béal Átha'n Ghaorthaidh
​
Cluichí an tseachatin seo
Craobh Sinsear
 Béal Áthan Ghaorthaidh v Droichead na Bandan
 Dé Satharn an 25ú ag 4.00in
i Cill Mhuire

Cluiche Craoibhe Soisear A
 Béal Áthan Ghaorthaidh v Inis Carra
 Dé Domhnaigh 26ú ag 4.00in 
i Cill Mhuire
Ticéadaí ar fáil I Siopa Úi Duinnín. 


Meitheal na Gaolainne Bhéal Átha  
Frásaí na Seachtaine 
​
Is minic a fuarthas comhairle ghlic ó amadán / Fequently clever advice is gotten from a fool 
Imíonn an tuirse ach fanann an tairbhe / The tiredness fades but the benefit remains 
Is geal gach nua agus is searbh gach gnáth / Every novelty is great and every commanplace bitter 
Ná tabhair breith ar an gcéad scéal / Don't judge on the first story- Hear both sides before judging
An rothar éalaitheach.
Thainig an rothar thar nais
Go raibh míle
​
Bike missing
The bike has returned
Thanks you
Gruagaire i gCuan Barra
Is feidir coinne a dheanamh leis an gruagaire ach glaoch ar Joanne ar 0877798592.
Hairdresser in Cuan Barra
Hairdresser Available in Cuan Barra by appointment call Joanne on 0877798592
Teiripeoir Áilleacht
Cecily Ní Chonaill
Cuan Barra gach Ceadaoin
Chuir glaoch/seol téacs chuig Cecily ar 085 167 9563  
Cecily O' Connell
On Wednesdays in Cuan Barra
Call or text Cecily on  085 167 9563
Nuachtlitir an Pharóiste / Parish Newsletter

Feach ceangailte
Cumann Ceamara Locha Lua

Pictiúrí na seachtaine/Photos of the week.

Féach faoi iamh pictiúrí na seachtaine ó Chumann Ceamara Locha Lua.

Bhí tearma oscailte an t-seachtain seo. (Griangrafadóirí:  Tadhg Ó Duinnín agus Siobhan Dan Seán).
 
See attached the photos of the week from the local photography club-Cumann Ceamara Locha Lua.

There was an open theme this week. (Photographer Tadhg Ó Duinnín and Siobhan Dan Seán)