Nuacht na Seachtaine Seo (16/04/2021)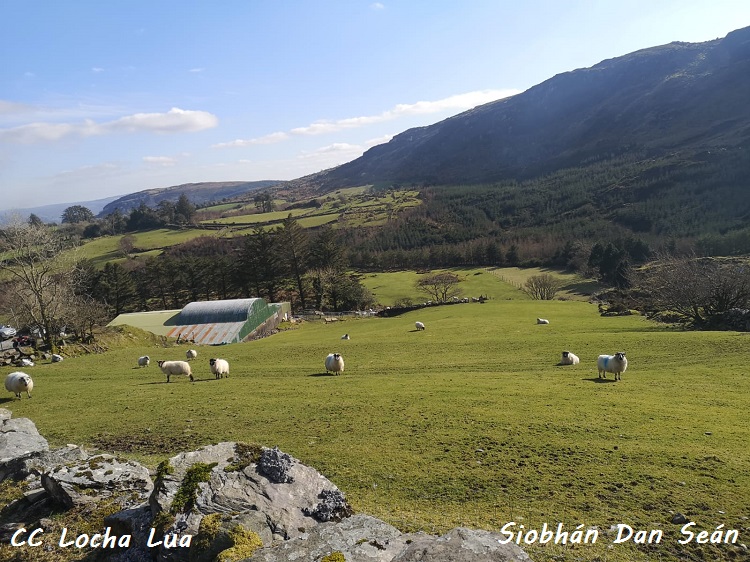 Coiste na mBailte Slachtmhara
Deireadh seachtaine mór peintáil na sraide
Teastaíonn uainn go mbeadh theaghlaigh i mBéal Átha sásta cabhair 's tacaíocht a thabhairt dúinn mórán ballaí sa t-sraid a phéinteáil
Aoine an 30ú lá d'Aibrean agus an Satharn an chéád lá de Bhealtaine
Balla an Halla,
An Leithreas
Balla Tig an tSagairt
An Cteáta
An tSúgán
An Linn Snámha
Bóthán Uí Mhuimhneacháin (John O Brien's)
Mórán le déanamh
Dá bharr Covid, níl cead againn meitheal a chuir le chéile. Sin an chúis go bhfuilimíd ag iarraidh oraibh cabhrú linn an obair seo a dhéanamh.
Cuirfimíd an trealamh go léir ar fáil.
Dean teangmháil le Maura ar 086 8870562 más maith libh píosa do bhalla a phéinteáil.
Tidy towns
Village Painting weekend
We hope that families will help us to paint walls in the village.
Friday 30th April and Saturday 1st May
The Halla Wall
The Public Toilets
The Priest's House Wall
The Forge
The Súgán
The Swinning Pool Wall
Moynihan's Cottage (John O Brien's)
Lots to do but many hands make light work!
Due to Covid guidelines we cannot organise a meitheal but we hope that families will paint sections of the walls.
We will provide all equipment required.
We believe it will make a huge difference to the village for the summer and years to come.
Please contact Maura on 086 8870562 if your family would like to try a section of a wall.
Meitheal na Gaolainne Bhéal Átha
Frásaí na Seachtaine


Rabhlóga as Gaeilge /Irish Tongue Twisters
Bhí bean ag Joe/ Joe had a wife
Is bhí banjo ag Joe/ Joe had a banjo
Is bhí banjo ag bean Joe/ Joe's wife had a banjo
B'fhearr go deo Joe ar an mbanjo/ Joe was always better on the banjo 
Ná bean Joe ar an mbanjo go deo/ Than Joe's wife on the banjo forever


Go mbeannaí Dia dhuit, minic a thig, / May God Bless you frequent caller
agus 'sé mo léan géar,/ Woe is me 
nach é minic nach dtig / that it not the infrequent caller    
a thig chomh minic / that calls as often
le minic a thig /as the frequent caller
Ná bac le mac an bhacaigh is ní bhacfaidh mac an bhacaigh leat / Don't bother with the son of the beggarman and the son of the beggarman won't bother you.
Comharchumann Forbartha Mhúscraí & GTeic
Lá an Domhain 2021
Trí sheisiún eolas an tseachtain seo chugainn agus daoine fud fad an domhain ag ceiliúradh Lá an Domhain:
20/4 –   Dramhaíl Bia  @ 8.00pm – beidh an seisiún sin ag díriú ar cúrsaí siopadóireachta agus cócaireachta  
21/4  – Iar fheistithe fuinnimh @ 7.30pm – beidh an seisiún sin dírithe ar insliú.  Tá na seisiúin chomhairle ar fáil fós – saor in aisce, Dé Déardaoin  https://calendly.com/retrokit/muscrai-gaeltacht-retrofit
21/4 –  Inbhuanaitheacht @8.00pm  – beidh sé ag díriú ar cad is féidir leis na mbailte shlachtmhara a dhéanamh, go háirithe.   
Feach ceangailte
 An Corcumann
Earth Day 2021
Three information sessions this week, as people all over the world celebrate Earth Day
20/4 –  Food Waste @8.00pm.  This week, shopping and cooking with leftovers
21/4 –  Energy Retrofit –  focus on insulation.  Also the free energy advice sessions are still available ón Thursday:  to book  https://calendly.com/retrokit/muscrai-gaeltacht-retrofit
21/4 – Sustainability:  what can we do better locally.  Session is particularly seeking how to help the Tidy Towns groups in this area.
Se attached 
Coiste Forbartha
Láthair seandálaíochta agus stairiúil i mBéal Átha a chuir ar léarscáil
Tá an choiste chun láthair seandálaíochta agus stairiúil i mBéal Átha a chuir ar léarscail le eolas faoi gach suíomh.
Tá sé beartaithe againn iad a léiriú ar an t-suíomh idirlíon Bealatha.ie
Má tá suim agatsa cabhair a thabhairt don tionscanamh suimiúil seo déan teangmháil le bhall don Choiste Forbartha..
Coiste Forbartha
The Coiste are going to identify all archaeological and historical sites in Ballingeary
We wish to publish them on the website Ballingeary.com wit a description attched.
We would love some help with this interesting project.
If you might be interested in contributing in any way please get in contact with a member of the committee.
Feirim Ghaoithe Gort Uí Rathaile
Feach eolas faoi an feirm ghaoithe seo sa  póstéir ceangailte
Gortyrahilly Wind Farm
See info in the poster attached
Water Biodiversity Training
The Duhallow Water Biodiversity Training Programme are looking for people from the following catchments:to take part in water biodiversity training

RIVER FEALE – Rockchapel
RIVERS ALLOW, DALAU, BROGEEN & OWENANARE – Boherbue, Newmarket, Kanturk, Lismire, Meelin, Tullylease
RIVERS CEATRA & AWBEG – Castlemagner, Cecilstown, Kilbrin
RIVERS SULLANE, LANEY & FOHERISH – Macroom, Inchigeela, Toonsbridge, Aghinagh, Carrigadrohig and Carriganima
RIVER LEE & THE GERAGH – Inchigeela, Toonsbridge, Aghinagh, Carrigadrohig
If interested contact Catherine Seale 
cseale@lawaters.ie
COISTE NA BAILTE SLACHTMHARA
Ag bualadh gach maidin Satharn ag a 10:45 i gCasadh na Spride.
Múrán cabhair ag teastáil.
Tar amach agus cabhraigh linn.
Tidy Town
Meeting every Saturday morning in Casadh ne Spride to do a few jobs
Please come along to give a helping hand at 10.45.
Lots to be done and ideas welcome.
An Coiste Forbartha
Ta púicín aghaidh agus uachtar steiriúla ar fáil ins an bosca telefón 
Táid curtha ann le h-usáid saor in aisce d'éinne a bhfuil a lorg. 
The Coiste have put facemasks and steraliser into the Telephone box.
They can be used free of charge by anyone that is in need
Cumann Peile Béal Átha'n Ghaorthaidh
Cumann Ceamara Locha Lua

Pictiúrí na seachtaine/Photos of the week.

Féach faoi iamh pictiúrí na seachtaine ó Chumann Ceamara Locha Lua.

Bhí tearma oscailte an t-seachtain seo. (Griangrafadóirí: Tadhg Ó Duinnínr agus Siobhán Dan Seán )  
 
See attached the photos of the week from the local photography club-Cumann Ceamara Locha Lua.

There was an open theme this week. (Photographers: Tadhg O Duinnín and Siobhán Dan Seán)