Nuacht na Seachtaine seo (18/3/2022)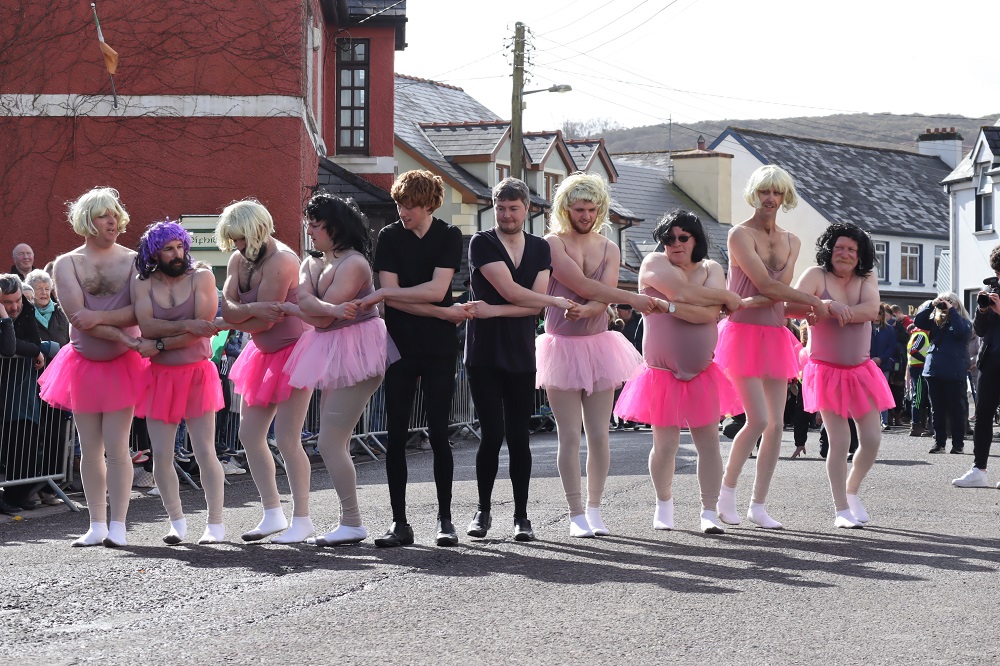 Coiste na Bailte Slachtmhara (Tomorrow Morning Saturday)
Anois teacht an Earraigh
Beidh bailiúcháin bruscar ar bóthaire Bhéal Átha aamarach an  Satharn an19ú lá do Marta
Tair amach agus tabhair cabhair duinn
Ag bualadh ag an cross sa tsraid
Tuile eolais ó Maura ar  0868870562
Roads litter pick tomorrow Saturday
 Approach road litter pick on tomorrow Saturday March the 19th 10.00 am.
Meeting at the cross
If you are free, come along and lighten the load for everyone else
So good to see the Ballingeary roads litter free 
If anyone would like to join the Tidy Towns WhatsApp group get in touch 0868870562
Feirm Muilte Gaoithe
Gougane Barra Wind Farm
Tá sé toghta ar bun ag an gCoiste Forbartha athbhreithniú  breithiúnach a thogaint san Ard Chúirt mar seans stop a chuir leis an feirm gaoithe atá beartaithe cois leis an Gúgán.
Sileann an gCoiste nach cóir go mbeadh an meid milteach san technólaiocht á lionadh comh congarach sin le áit comh álainn san. 
Chun í sin a dhéanamh beidh orainn €95,000 a bhailiú
Téir chuig an nacs thíos cun airgead a seoladh i dtaobh an feachtas tábhtachtach seo.
https://www.idonate.ie/fundraiser/11430350_save-gougane-barra-fund.html   
nú      paypal.me/savegouganebarrafund 
Má iochan tú trí Paypal tabhairfigh muid an tairgead thar nais chúghat, luide aon iochachtaí, má mbeidh an bua againn sa chuairt.
Feach an foir,m ceangailte
Nó Bealatha.ie
Feach an preas ráiteas ceangailte.
Save Gougane Barra
The Coiste have been instructed by our legal representative, that there is a case for a judicial review against An Bord Pleanála in their decision to grant permission for the following close to Gougane Barra.
Two battery storage facilities, (Each the size of a small house)
An eletrical substation, 
Seven Wind Turbines which will the biggest in the county standing at 178.5m
We believe that this is far too much technology so close to such a historic and important site.
The cost of the judicial review is a staggering €95,000.
With your help we believe we have a chance to raise such a huge sum
Please donate at this link
https://www.idonate.ie/fundraiser/11430350_save-gougane-barra-fund.html   
Or paypal.me/savegouganebarrafund 
Or go to Ballingeary .com
If you donate through PayPal or cheque and we are successful in the courts we will reimburse you minus some small expences which may arise eg. paypal expences
For more info please contact savegouganebarra@gmail.com
See the press release attached.
Tiomsaitheoir do muintir na hÚcràine
Ba mhaith liom, thar ceann Ellie agus mé féin, buíochas ó chroí a ghabháil le gach éinne a thug airgead don chrannchur ar son na Croise Deirge san Ucráin. Bailíodh €2377 san iomlán. 
Ár mbuíochas chomh maith le  Eileen agus Frank as a gcuid tacaíochta  agus as an siopa a chur ar fáil dúinn. 
Raffle for Ukraine
On behalf of Ellie and I, we would like to say a big thank you to everyone who contributed to the Red Cross Ukraine Raffle. Overall we have raised €2,377. A massive thanks to Eileen and Frank for looking after it in the shop.
Here is the list of Winners
1. Julie Ní Choincheannain – Hamper

Caroline O'Leary – Hamper

Mick Moynihan – Led Headlight

Siobhan (Teddy) O'Leary – Quills Voucher

Willy Levis – Lee Valley Shirt

Noreen Dineen – Led Headlight

Lucy Moynihan – Hamper

Maura Long – Áine's Beauty Suite voucher
Paráid Lá le Pádraig
Ba mhaith leis an gcoiste buíochas a ghuabháil ar gach einne a glac pairt agus a cabhraigh in aon slí.
Bhí sé thar bar arís i mbliana
Feach an clip a bhí ar nuacht TG4 anseo
https://youtu.be/bmjeRXxaHME

Beidh an fís don paráid iomlán insan email seo an Aoine seo chugainn
​
St Patricks Day Parade
The committee wish to thank everyone that took part and helped in any way.
Such a great year again.
See the clip that was on Nuacht TG4 anseo
The video of the full parade wil be in next Friday's email.
Comoradh Caith Céim an Fhia 200
Tá fís don chomoradh le feiscint anois sr
https://youtu.be/5p84YZWZIEw

​
200 Year commemeration of Caith Chéim an Fhia 
The commemoration can now be seen on the following link
https://youtu.be/5p84YZWZIEw

Muintir na hÚcráine
Loistn á lorg 
Feach
Cabhair ó Corcaigh do muintir na hÚcráine


https://safeharbourforukraine.org/
Help for Ukranians
Help from Cork for the Ukranian people
Safe Harbour for Ukrainians in Ireland – Please help if you can


https://safeharbourforukraine.org/
Meitheal na Gaolainne Bhéal Átha  

Seanfhocail Seachtain 6
Is leor don dreoilín a nead. – A wren needs only its nest.
Cleachtadh a dhéanann maistreacht. – Practice makes perfect.
Go maire tú an céad. – May you live to be one hundred.
Eist leis an seanfhocail ceangailte
Comharchumann Forbartha Mhúscraí & GTeic
Beidh Cruinniú Cinn Bhliana de Chomharchumann Forbartha Mhúscraí Teoranta ar siúl;
Dé Céadaoin, 23 Márta 2022, ag 8.00pm, sa  GTEIC, Béal Átha an Ghaorthaidh. 
Cumann Peile Béal Átha'n Ghaorthaidh
​
Gruagaire i gCuan Barra
Is feidir coinne a dhéanamh leis an gruagaire ach glaoch ar Joanne ar 0877798592.
Hairdresser in Cuan Barra
Hairdresser available in Cuan Barra by appointment. Call Joanne on 0877798592.
Teiripeoir Áilleacht
Cecily Ní Chonaill
Cuan Barra gach Ceadaoin
Chuir glaoch/seol téacs chuig Cecily ar 085 167 9563  
Cecily O' Connell
On Wednesdays in Cuan Barra
Call or text Cecily on  085 167 9563
Nuachtlitir an Pharóiste / Parish Newsletter


Feach an nuachtlitir ceangailte 
Cumann Ceamara Locha Lua

Pictiúrí na seachtaine/Photos of the week.

Féach faoi iamh pictiúrí na seachtaine ó Chumann Ceamara Locha Lua.

Bhí pictuirí Lá le Pádraig an t-seachtain seo. (Griangrafadóirí:  Breandán ÓTuama.
 
See attached the photos of the week from the local photography club-Cumann Ceamara Locha Lua.

St Patrick's day photos this week. (Photographer Brandy Twomey)